Shuttle Service From Daytona Beach To Disney 

 
Elegant Limousines in Daytona Beach is now offering daily shuttle service to and from Disney.  This service is a dedicated shuttle that runs twice a day. The shuttle to Disney from Daytona will depart from the Volusia Mall Parking Lot on International Speedway at  8 am. A return shuttle will depart Disney at 10:30 pm Just after the fireworks. Are you planning on staying overnight at a Disney Resort ? Our shuttle can bring you back to Daytona in the morning. Our morning shuttle from Disney to Daytona Beach is perfect for the traveler who needs more than one day to enjoy all that Disney has to offer. The Morning Shuttle from Disney to Daytona departs Disney at 10:30am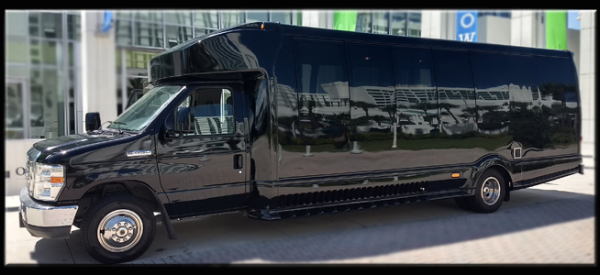 Spending the day or even a few days at the happiest place on earth can be very tiring for anyone. We are now offering the answer to your long day and travel to and from Disney. No parking, no traffic and no stress ! Board our Shuttle From Daytona To Disney and relax in an air conditioned professional shuttle. It couldn't be easier. The schedule we offer gives you the option to come home the same day or what every day you are ready to go back. 
We have shuttles departing Daytona at 8:00am and returns from Disney at 10:30 am and 10:30pm

  
Rates and Schedule
*Please tip your chauffeur direct. 
*All reservations must be pre arranged and pre paid at the time of making  your reservation.
​
​Depart Disney 10:30am and 10:30pm
​​
Daytona Pick Up And Drop Off location Is: The Volusia County Mall Front Parking lot

​1700 W International Speedway Blvd, Daytona Beach, FL 32114

Disney Pick Up And Drop Off location Is:

Disney Bus Lot at The Main Gate To The Magic Kingdom 

Call for reservations. 386-793-1077
Online Reservation will be available soon.

​Vehicle size may vary depending on number of passengers pre registered.

Questions & Answers
Q: Where will the shuttle drop us off at Disney? 
A: Your shuttle from Daytona to Disney will drop you off at the Bus Lot. This is the main gate entrance to The                 Magic Kingdom. From this location you can purchase tickets and then board the monorail or the ferry to                     Disney and all Theme Parks.

Q: Where will the shuttle pick us up at Disney?
A: The shuttle from Disney to Daytona will pick you up at the bus pick up lot  just outside of the main gate. This is          the same lot we drop you off at.

Q: Where in Daytona will the shuttle to Disney pick us up?
A:  Our shuttle will pick up and drop off from the front parking lot of the Volusia Mall at 1700 W International                    Speedway Blvd, Daytona Beach, FL 32114

Q: Will the shuttle pick up and drop off from Disney Resorts ?
A:  No,The shuttle only picks up and drops off from the bus lot at the main gate of the Magic Kingdom. However              Disney offers free shuttle service to all guest that need to get around the Disney property. Just make                              arrangements with the Disney Resort to get to our pick up and drop off location.

Q: If I reserve round trip do I have to use both trips in the same day?
A: No, You do not have to use your return trip the same day. Just let our office know what date you will be                         returning and you will still benefit from our round trip discount.

Q: Can I bring luggage on the shuttle ?
A:  Yes, you are allowed to bring luggage. It is very important that you let our office know at the time you make                your reservation. Knowing this information will help us to make sure we can accommodate everyone.

Q: What type of vehicle can I expect to pick me up?
A:  The vehicle type may be different each time. This depends on how many passengers have pre registered for                that specific trip. If we only have 3 passengers going at a certain time we will send the appropriate size vehicle.

      If we have a large group our larger Coach Bus will be dispatched.

Q:  Can I drink alcohol on the shuttle?
A:  No, this is a family shuttle to Disney. Please save your drinks for the bar.


If you have any questions please feel free to call or e mail us anytime.
386-793-1077 [email protected]